Coconut flour flatbread is super easy to make and only takes 10 minutes!
This quick and simple Coconut Flour Flatbread recipe is made with only 5 ingredients, coconut flour, coconut oil, eggs, baking powder and salt. You can mix this recipe up in just a minute and have fresh made sandwich bread ready in less than 15 minutes! Double, triple or quadruple the recipe for batch cooking and toss them in the freezer for future use!
I love recipes that are easy and and only take a few minutes to throw together. I'm a busy mom and I don't have a lot of time bake during the week so when I need a gluten free sandwich bread, burger bun or pizza crust I make this recipe.
Enter the Coconut Flour Flatbread Recipe! This recipe makes two pieces of flat bread, enough for one sandwich, burger or two small pizzas. The bread comes together very easily and bakes for only 10 minutes!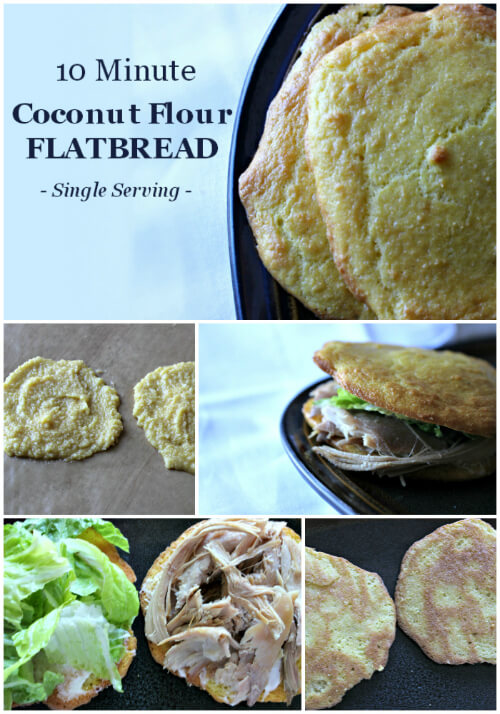 Coconut Flour Flatbread
Yields 2 coconut flour flatbread pieces.
Ingredients:
1 1/2 Tablespoons coconut flour
1 Tablespoon coconut oil, melted
1 Egg
1/8 Teaspoon sea salt. (Edit: The original recipe called for 1/4 teaspoon of salt. After further testing we felt like less salt was needed.)
1/4 Teaspoon Baking Powder – Here's how to make homemade grain free baking powder
Directions:
1. Preheat oven to 350 degrees F.
2. Mix coconut flour, sea salt, and baking powder together until combined.
3. Add egg and melted coconut oil and mix well.
4. Let batter sit for a few minutes to allow the flour to absorb the liquid.
5. Scoop half the batter on baking pan and use a spatula to spread batter into a circle the size of a bun.
6. Repeat using the rest of the batter. Bake for 10 minutes or until golden brown.
And If you want even more delicious keto recipes and a complete step by step guide to doing keto right then you'll want to join me in The Two-Week Keto challenge.
More than 67,054 people have gone through the Challenge and more people are joining every day.
If you're ready to try the keto lifestyle, then join me in the Two-Week Keto Challenge.
You'll find everything you need to finally GO keto the right way, WITHOUT all the guesswork.
Click the link below and I'll see you inside.
Click here to join the Two-Week Keto Challenge and start your keto journey completely risk-free.