Share this article with your friends
The secret step in this recipe that takes this low carb almond bread from good to great is the separation of the eggs. You're going to want to separate the yolks and the whites. The reason for this is that we're going to whip the egg whites until they are fluffy. We're looking for soft peaks. This will add some volume to the otherwise dense keto bread. Beating the egg whites is the answer to the denseness that comes with making an almond flour bread. I've made countless baked goods using almond flour and the main problem I've encountered is how dense the finished product is. The fluffy egg whites in unison with the high dosage of baking powder do a good job of getting this loaf nice and fluffy and adding some air pockets into the loaf. This makes for a better tasting bread.
What makes this the best keto bread recipe you're likely to find is the fact that you can use it the same way you use actual bread. Sounds crazy right? If you search for keto bread on pinterest, or the internet you'll find a different recipe for everything you might want to make. Want to make french toast? sandwiches? croutons? avocado toast? You can do it all with this keto bread recipe. You can even get crazy and throw this bread in a food processor and use it as italian bread crumbs. The possibilities are endless.
Your Low Carb Bread Replacement Has Arrived!
The best part about this bread is that it makes it so much easier to eat a low carb diet. Yes, there are some savage beasts(joking) that don't miss bread at all and are happy to just eat bacon 7 times a day, but if you're anything like me, bread was a staple of your diet growing up and you still have a look of yearning in your eyes when they drop that bread basket in the middle of the table at family dinner. I feel your pain. This low carb bread recipe is your shoulder to cry on.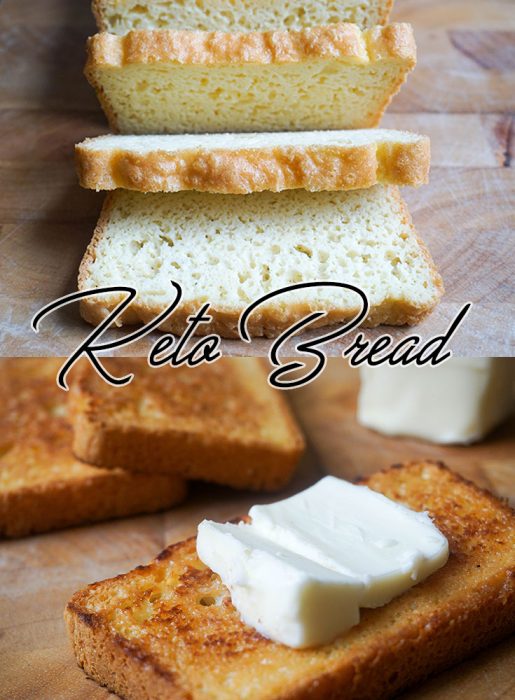 Servings: 20 Slices
Prep Time: 10 minutes
Cook Time: 30 minutes
Ingredients
1 1/2 Cup Almond Flour
6 Large eggs Separated
4 tbsp Butter melted
3 tsp Baking powder
1/4 tsp Cream of Tartar It's ok if you don't have this
1 pinch salt
Instructions
2. Separate the egg whites from the yolks. Add Cream of Tartar to the whites and beat until soft peaks are achieved.
3. In a food processor combine the egg yolks, 1/3 of the beaten egg whites, melted butter, almond flour, baking powder and salt (Adding ~6 drops of liquid stevia to the batter can help reduce the mild egg taste). Mix until combined. This will be a lumpy thick dough until the whites are added.
4. Add the remaining 2/3 of the egg whites and gently process until fully incorporated. Be careful not to overmix as this is what gives the bread it's volume!
5. Pour mixture into a buttered 8×4 loaf pan. Bake for 30 minutes. Check with a toothpick to ensure the bread is cooked through. Enjoy! 1 loaf makes 20 slices.
Nutrition
Amount Per Serving: Calories 90 | Total Fat 8g | Net Carbohydrates 1g | Protein 4g
If you find yourself in a food rut, you can try new recipes like those found in the Keto Recipe Collection that comes together with the Two-Week Keto Challenge.
When you take The Challenge, you'll be given everything you need to follow the keto diet without all the guesswork.
And if you haven't yet joined the Two-Week Keto Challenge you can do that by clicking below.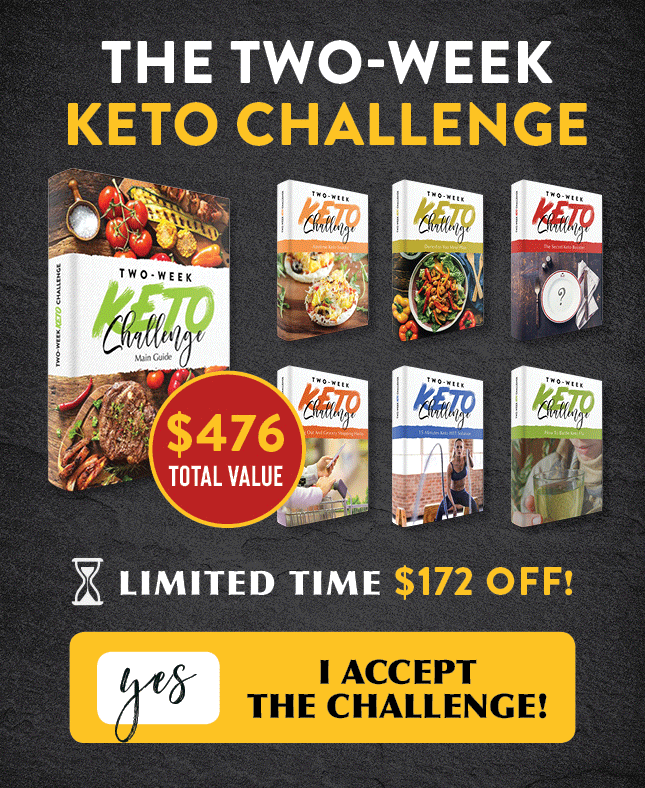 Share this article with your friends